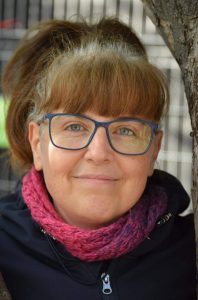 By Nathalie Lizé
Early Years educator
1As educational childcare services week approaches in Quebec, Canada (from May 30 to June 5, 2021),
I feel the need to talk to you about the importance of our work for families but also about our significant contribution to the proper functioning of our society. We use our knowledge and meet the growing demands of the gouvernement constantly. We observe, we fill the portraits of the children with professionalism. We change our interventions following the various training and updates requested. We evolve according to the different educational programs put in place. We work more and more with children who present different challenges and use the money given to adapt our classes and our interventions to make our preschool kids as happy as possible. All these ajustements help us to learn and develop new skills and I am fine with it. A full week to promote our work and say thank you is a nice thought but, we need recognition all year round. We totally deserve it.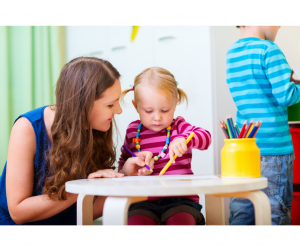 Where is the next generation of educators
I have so much to say, but where to start to make clear how sick our beautiful childcare network is. Sick because educators are tired and want their skills to be recognized at their true value. Sick because we see more and more of these dedicated workers leaving to go to better paid jobs or better socially perceived ones. People go , but where is the next generation? It is not there and it is understandable. The salary offered to these young people who have lots of choices for their future is not very attractive. The work tasks are great and the recognition is not there.. Our communities are in a labor shortage. Recruitment is complex and difficult. Getting someone to replace us when needed is sometimes like asking for a miracle. Are we at an impasse? What are the solutions? How to attract young people to go to early childhood education? Our profession involves more than blowing noses, changing diapers or playing with kids. As long as the average person continues to view the network with this reductive gaze, young people will continue to look elsewhere. It is essential to find strategies to attract young men and young women, to make them want to join us, to arouse interest in our profession. The government is opening a door that gives a little hope by proposing to release funds to train educators and also offer scholarships to students, as mentioned in this CTV news article from April 26, 2021.
https://beta.ctvnews.ca/local/montreal/2021/4/26/1_5402875.html
Hopefully this door will remain open and we will see new trained, motivated and competent educators join us.
Now we are an essential service
We are now considered an essential service. Society has realized with this pandemic that it is very difficult to function without us, early childhood professionals. Of course, it was not denied that we are an interesting contribution to society. As we are there to take over, workers can work and do what they have to do. But, suddenly, we began to hear the terms, essential service and early childhood professionals in the same sentence. We have been present throughout this pandemic. We made ajustement, again. We have professionally assumed the new ways of doing things: disinfection, mask, visor, protective glasses. We have a great ability to adapt. If I ask you what additionnel recognition you would like? What would you say? That you want parents to understand that we deserve their full trust, that we educate their children, and that we have multiple knowledge and skills? Fortunately, the majority of them already know this and those who ignore it or sometimes forget it most certainly recognize that we are essential to their routine. Several verbalize their appreciation to us and that feels good. After all, we are partners and when they realize that it is a great recognition. You would say you would like a salary and Working conditions that respects our competences. We all wish that. However, after 30 years of dedicated service, I am still waiting. Hopefully what is happening at the moment will allow us to improve our situation. Let's believe that the wonderful families we work with, will continue to be present for us and that the members of our government will open their eyes and their hearts to support us. Let's cross our fingers and wait a bit. Let's stay positive. Society is starting to understand.
Let's keep hoping
Fortunately, a lot has changed and for the better. A lot of water has flowed under the bridges. The network is developing, a little slowly but surely. The educators are mostly trained and competent and we want it to stay that way. Efforts are shown from time to time to seek solutions but it is not enough in my opinion. It's time to ask ourselves what we want, what we need. We've been holding our network at arm's length for so long because it's part of us, because we care for It. Let's talk positively about our beautiful profession around us. Let's show our entourage, the people we know how much our work is gratifying. Let's explain how much expertise and competence we must develop. Let's talk about our daily contribution to the proper development of children. Preschool education is unknown, it is up to us to value it. Help people understand that even if we work hard and do so much more than play, we have fun with the kids anyway. We are important, let's show it. We are equipped to detect developmental problems because we are experts of early childhood development. Project the positive. We can communicate to society, one person at a time, that we are more than Playmates for children but real professionals. The Media talks a lot about insufficient salary, lack of place on the network and labor shortage. Perhaps, by presenting a positive image to young people, they will be tempted to learn about early childhood education. To learn is to understand and perhaps, hearing all our positive words, will help them develop their interests in becoming an educator. I am pretty sure they already know the négative reality of our profession. Let's try another strategy. Let's show them the bright side of things, without of course forgetting our fundamental issues.
Enjoy the moment
Of course we deserve a better salary. Of course, we must continue to defend our beautiful network and not give up. But, there are times for self-defense and times for peace. This upcoming educational daycare week is a time to take advantage, to embellish our image, to take care of ourselves. Show your colleagues that you appreciate them. Let's have fun. Welcome the gratitude that will be given to you. It is a nice thought to say thank you to all the beautiful people that we are. Hopefully one day, recognition will accompany us throughout the year.
Thank you all for being there and talk to you soon
Nathalie Lizé
Educator and family coach
---
Discover our products