By Nathalie Lizé
In a few days it will be what we call in Quebec, the holiday season. Of course, Christmas festivities are not for everyone. Individuals' religion and beliefs influence whether to celebrate this time of year. Christmas as a religious holiday has no longer its place in our beautiful preschool education circles but what about Santa Claus. What good can this jovial and benevolent man and his imaginary world bring to the children's world? Should we continue to talk about this legend full of goodness and magic? Here is the subject of my reflection in this last text of the year 2021. However, before discussing what this legendary story brings to children, Let's visit the past and talk about the origin of this character. Where does this mysterious old man with a contagious smile come from?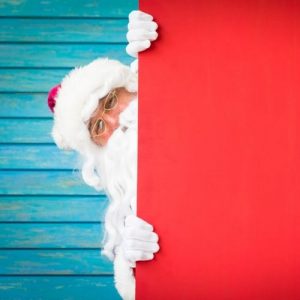 Saint Nicholas
Long before the Santa Claus we know today, there was Saint Nicholas. Nicholas of Myra was a bishop who lived in a town called Myra that is now called Turkey. This gentleman who had a lot of money and adored children, decided one day, to take the time to please the little ones. Sitting on his donkey's back to move around he distributed fruits, nuts and other sweets from door to door. This distribution of sweet treats took place on December 6, his birthday. All of this was happening at the beginning of the Christian era.
The origin of the tradition
In the 16th century, the Dutch decided to put straw and little surprises in a clog (shoes of Dutch origin) near the fireplace. They hoped to receive a visit from this generous character. Their intention with this gesture was to feed his mount while making Saint-Nicolas happy.
The Christmas socks we fill with surprises and hang in our homes as well as the cookies and glass of milk offered to Santa Claus directly comes from this Dutch tradition.
The eco-friendly xmas mini sock
In the 17th century, with Dutch immigration to the United States, the legend moved to America. The "Sinter Klaas" then became Santa Claus. The Christmas date changed too to take place on December 24 or 25 so, It coincides with the birth of Jesus for Catholics.
Santa Claus as we know him
Then, in 1863, political cartoonist Thomas Nast created the Santa Claus we know today with his red and white coat and bulky belly. He is also at the origin of the supposed road taken by Santa Claus on Christmas night. He created a map showing the North Pole as the starting point of the magical tour.
Finally, in 1931, the final version of the modern Santa we know was born out of a master stroke of marketing from Coca-Cola. The famous soft drink company thought of an advertisement strategy in which the legendary character drinks Coca-Cola. Giant posters showing our Santa Claus quenching his thirst with this beverage are plastered all over. The genius idea gave birth to the final version of our benevolent and paunchy friend.
Although this character appears on the day of the birth of Jesus in Christianity, he has nothing to do with this region. So, we can talk about him freely in our preschools.
Why make kids believe in Santa Claus
The beliefs and imagination linked to everything that surrounds the legend of Santa Claus is, for some, a way to reinforce the magic of Christmas. Indeed, children have an overflowing imagination and in the world of early childhood, fairy and magical creatures are very present. Children love to live in a world filled with princesses and unicorns populated by superheroes with powerful powers. The characters surrounding Santa Claus at the North Pole represent this facet of childhood. When we think about the elves making an unlimited number of gifts, the reindeers that fly away to lead our jovial friend through the sky or about the fact of going around the world in a single night, we can understand all the satisfaction that the little ones find in believing. Imagination is the open door to creativity. By talking about Santa Claus and its magic, we stimulate not only the imagination, but also the language through discussions and new vocabulary. In addition, children develop their socialization. Role plays are also stimulated significantly. Children will become a reindeer, an elf or just pretend they are Santa himself. You can find wonderful books on this theme which encourages awakening to reading and which allows educators to work on active reading. When educators and parents unite to let the little ones believe in all this magic, a whole world of learning opens before them. Everything that surrounds Santa Claus also allows us to experience social rituals that are the same at home and in the daycare environment.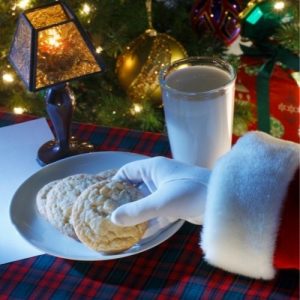 Benevolence and sharing
You have to focus on the positive. Threats to the child who will not receive gifts if he or she does not listen to instructions should be avoided. For this time of the year to remain pleasant, the children who attend your early childhood centers and daycares must live it in kindness. As Santa Claus is a good being who conveys sharing and teamwork, you can take the opportunity to encourage kindness activities such as making Christmas cards or gifts for seniors or lonely people, giving toys that they no longer use or make a gift for the food manager or the director. In addition to working on fine motor skills, creativity and more aspects of development, depending on what they choose to create, this process helps children see the world differently and develop a sense of empathy. Encouraging little ones to offer gifts to significant people who work with them teaches them appreciation of other persons work and effort.
Just have fun
Make up songs, find names for the elves, create a theatre show or bake decorated Christmas cookies. Have a pyjama day where paper ball fights are allowed or they can watch a movie wrapped in a Soft blanket like the Natis Design one.
ttps://natis.ca/en/product/the-polar-fleece-blanket/
Why not drink hot chocolate with marshmallows? Let your imagination run wild and, above all, help children to use theirs. Ask them what kind of gift they want to create and offer them stimulating and varied materials to achieve their goal. Accompany them in the magic of Christmas, after all it's only once a year.
Talk to you soon
Nathalie Lizé
pedagogical and technical support consultant
and family coach
---